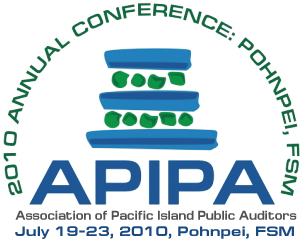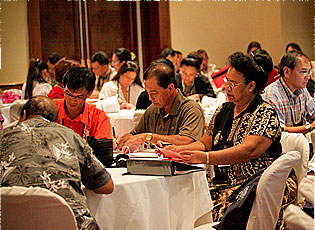 Welcome to the 2010 APIPA Conference.
It is my distinct pleasure, on behalf of Office of the Pohnpei State Public Auditor and its staff, to welcome all participants, instructors, and special guests to the 21st Annual Conference of the Association of the Pacific Islands Public Auditors (APIPA), to be hosted in Pohnpei at the College of Micronesia's Gymnasium from July 19-23, 2010.
As you may know, we Pohnpeians describe our island as Pohnpei Sarawi, which translates as "island upon a stone altar". In that spirit, this year's conference logo depicts the ruins of Nan Madol, one of Pohnpei's historic landmarks. Our theme for this year's conference is to "Enhance Accountability and Transparency in the Public Sector Work Force of the Pacific Islands."
We are very happy that representatives of the audit, finance, investigative and other offices from across the Pacific are assembling in Pohnpei for this very important annual conference. The primary goals and objectives of this conference are to train participants to improve their skills and knowledge to become more efficient and effective in their audit, investigative and accounting professions.
We are very thankful to the United States Department of the Interior's Office of Insular Affairs, as well as the Graduate School's Senior Program Manager Stephen Latimer, and Program Manager Jason Aubuchon, for their assistance in recruiting a team of excellent instructors, including Jeanne Yamamura, Stephen Morgan, Frank Crawford, Ben Lorigo and Bill Allen. These instructors will teach four tracks of curricula: Audit, Audit Supervisory, Finance and Advanced Finance, all of which will provide participants with Continuing Professional Education (CPE) credit. With over 20 courses to choose from and a wide range of after-conference activities and events in which to participate, I have no doubt that each participant will greatly value their time in Pohnpei.
I would also like to thank my staff for the outstanding job they have done in organizing this annual conference. I hope you will all benefit from this 21st APIPA Conference, and I look forward to welcoming you to Pohnpei.


Annes H. Leben, BSA, MBA
Pohnpei State Public Auditor